Up and at 'em!

Today is Saturday, the big day for the Triangle Pen Show and, more important, the day of the night of the auction! We are charged up, but first it's necessary to stoke the fires. The Embassy Suites provides a free breakfast — a full breakfast, not just bagels and danish and chafing dishes of powdered eggs, sausage, home fries, and some soggy substance that passes for French toast. Oh, they have those things, plus fresh fruit, a variety of cold cereals, fruit juices, good coffee, and an open kitchen where you can order an omelet to your liking, or other eggs (two over easy being my favorite), or the daily special (waffles today). This is the atrium at 8:00 this morning, as I was on my way back to our room to fetch the computer, Nook, and other items to go into the ballroom.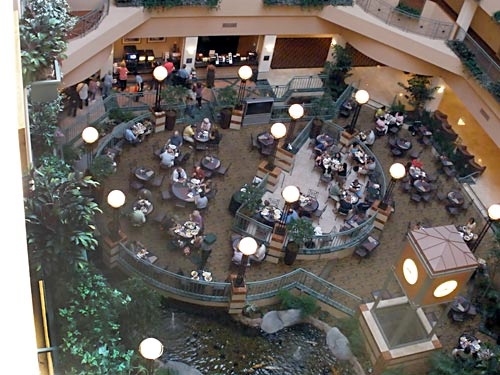 I don't normally get a lot of free time (translation: "I usually get no free time") during a show Saturday, but today was remarkably quiet. I have no doubt that some of the dealers will report dismal selling, but we were pretty much busy all day. It wasn't a press as so often happens, but almost every time I finished someone's pen, another someone walked up with a pen to work on. Here I'm working on a nib at about midmorning. (Pendleton Brown was kind enough to take this picture, and now I'm feeling like an idiot for not returning the compliment.)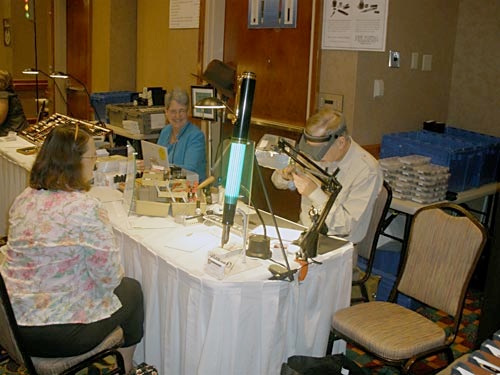 The point of free time, or lack thereof, becomes of interest when I want to go prowling around the floor. I finally said "the heck with it," picked up the camera, and snapped some photos. Here are about half of them: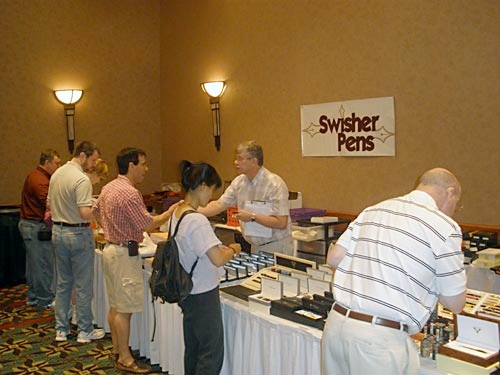 Behind the table here is respected dealer Chuck Swisher, who got his start in the pen business as a pen turner and who now sells on line and also in his big brick-and-mortar store in Virginia.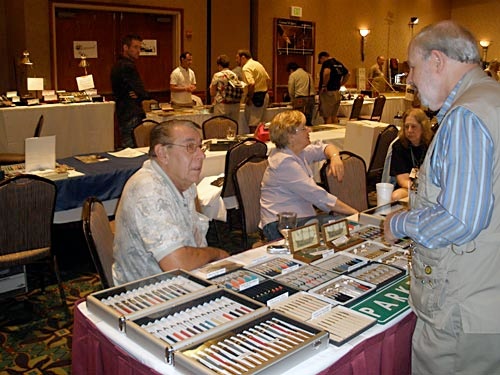 Seated is Francis Meinhard, aka Parkercrazy, chatting with Alan Hirsch.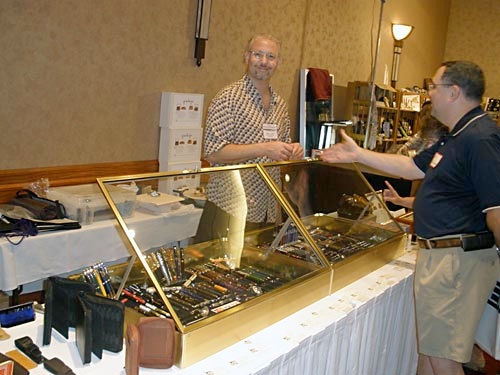 Mario Campa, owner of Toys from the Attic, where you can find guitars, watches, pens, accessories, and the excellent Girologio solid rosewood pen and watch cases.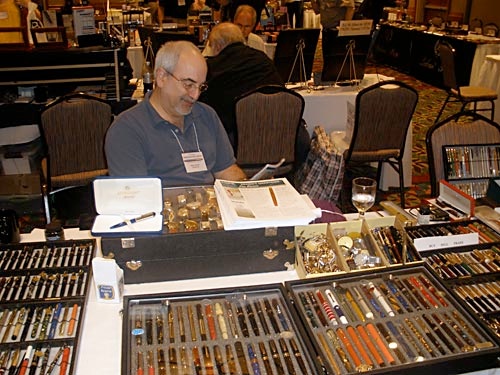 The redoubtable Paul Erano: author, publisher of EQPR, all-around good guy, and brandy-new editor of the PCA's Pennant. Here Paul is pretending not to notice that I'm there.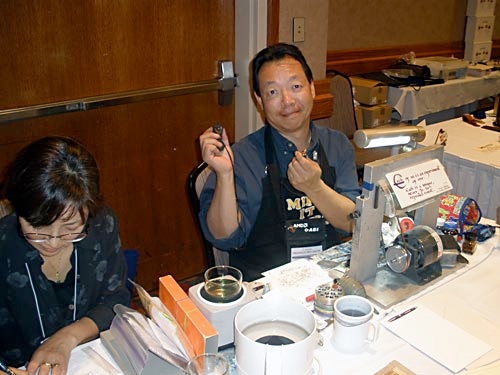 This is Michael "Mike It Work" Masuyama, holding up a loupe and a nib that moments before was getting up close and personal with Mike's grinding wheel. To the left is Mike's charming wife Emiko, who is a little camera shy. (I have another picture of her, but I decided not to put it in.)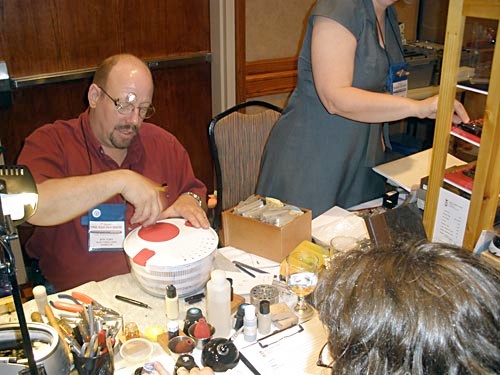 Here Ron Zorn of Main Street Pens is showing his skills as a chef, flushing the water out of a pen in his salad-spinner centrifuge.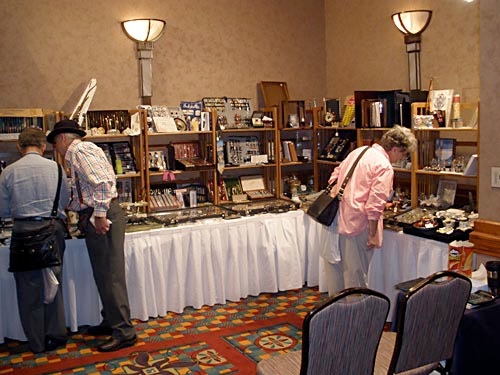 Probably the most time-consuming display to set up is that of Dick Vacca (wearing his trademark derby hat) and his wife Evelyn. Their offering of vintage jewelry, pens, and pen-related items is guaranteed to have at least one item you can't leave without.

After the show closed at 5 p.m., everyone scattered for dinner, some going out and some staying in for the likes of shrimp and grits in the hotel's own restaurant (which is surprisingly good). Barbara and I went across the road to Bonefish with our good friends Elaine and Rick (who drove down from New Jersey to be here), Carl ("Mister Retrofit") Seidl and his wife Eva, and the ever-popular David Isaacson. Bang-Bang Shrimp is a powerful inducement…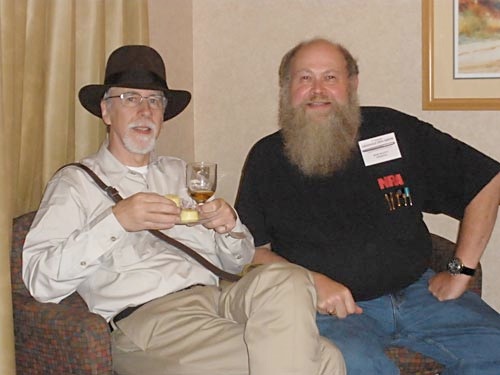 On our return to the hotel, we repaired to the show's hospitality suite, where Friday's pizza party went down, to enjoy the dessert party. Above is your humble scribe with Bob Scott, who frequently wears a Boot Hill T-shirt but is secretly a thoroughly nice guy.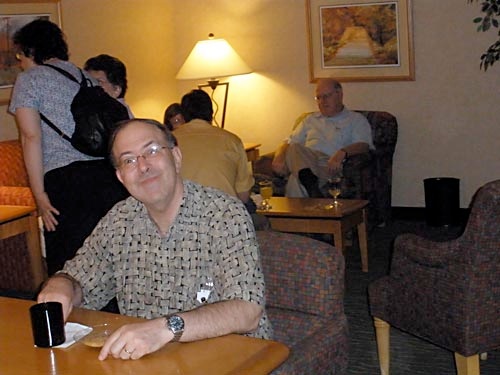 Mugging for the camera is Howard Levy, president and owner of the Bexley Pen Company, who took the picture of me with our longtime mutual friend Bob.

From the dessert party we all trooped down the hall to the Cape Fear conference room, wherein was the last-minute auction preview. The auction, of course, is always a major draw at a Mawhorter show, and this one was no exception. There was one pen in the auction that I was determined to have (so long as the price didn't get too unreasonable), but I also generally buy several other pens for resale.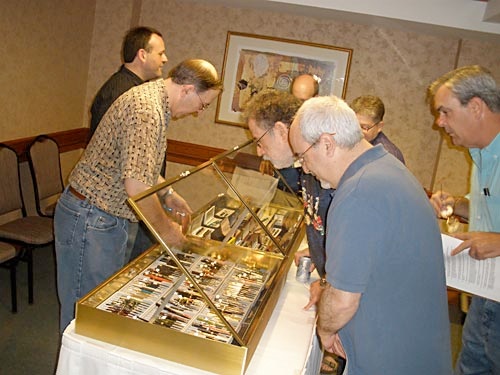 Behind the case are Ben Mawhorter and Howard Levy. The three recognizable faces on the "customer" side are Paul Erano (closest to the camera), Hirsch Davis (leaning over the case), and Steve Braun of All Write Now. Partially hidden behind Paul is Deb Kinney, of The Pen Connoisseur.

Then there's the auction. Terry Mawhorter presides from the podium. Howard Levy is at right. To the left, out of the picture, are two people who record the purchaser and hammer price of each lot as it's sold.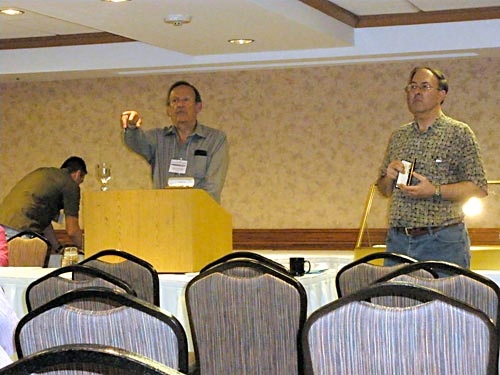 Part of Howard's job is to walk each lot up the aisle to be sure we all know what we're bidding on. We're supposed to have made sure about these things at the preview, but occasionally somebody takes a last look. (Try to get Howard to let you handle the items at this point, and you'll understand the bulldog scowl on his face here!)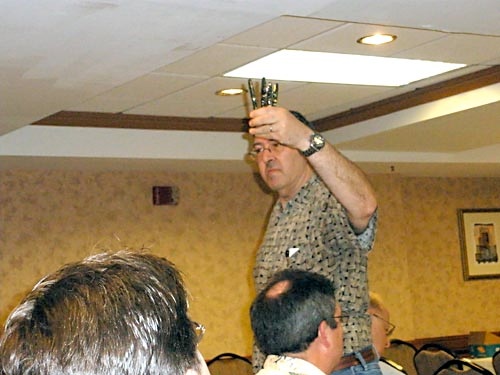 I got my one prize, a Parker 020 Jointless pen, and also nailed down some very nice things for upcoming RichardsPens.com Pen Show Trays. I did not win the bidding for the oversize Chilton with the Lox-Top section, or the double-jewel Parker "51" with the Heirloom ("Windowpane") cap, or the super-flexy Eagle, or the mint-in-Box PFM V set. Heck, I didn't even win the ultra-rare solid gold Aero-metric Parker "51" boxed set. But I'm still a very happy camper.

And there's still one more day to play!