If you remember that commercial catchphrase, you're probably as old as I am. Which  can be a good thing or not, depending on how you look at it.

Speaking of old things happens to be the topic of today's blather. The old thing in question is this thing: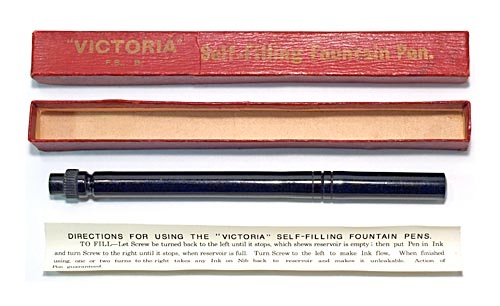 The thing in question proclaims itself a "VICTORIA" Self-Filling Fountain Pen. With the capital letters and the period at the end, in gold-colored ink.



A fountain pen, eh? Is it… or isn't it? (Hence the playful title of this screed.) My site's Glossary defines a fountain pen as follows:

The point that makes me question the fountain penhood of the "VICTORIA" Self-Filling Fountain Pen. is the word continuous. This pen doesn't flow continuously. Here's what the instructions say:

Read this sentence again: Turn Screw to the left to make Ink flow, After the pen is filled, you can write out the ink that has clung to the underside of the nib. Then you give the knob a little turn to force more ink from the reservoir onto the nib. That isn't what I understand a fountain pen to be, and enough people send me pens to work on because the pens don't flow continuously that I'm confident I'm not alone in my understanding.

But let's not take my admittedly biased definition as our sole "authority." Let's ask some "real" authorities. The Random House Dictionary says this:

There's that word again. Continuous. What does the Merriam-Webster Dictionary say? It says this:

"Automatically." That sounds enough like "continuous" that I think I'll accept it.

Okay, so if the "VICTORIA" Self-Filling Fountain Pen. isn't a fountain pen, what is it?

It's clearly a pen, but what kind of pen? What kind of pen requires you to replenish its ink frequently as you write? You guessed it. This thing is actually a dip pen that happens to carry a reservoir inside it so you can use it away from your inkwell. Or at least that's my take on it. But its true nature withal, it's a cool piece of pen history. And I bought it for that reason.

It turns out that the "VICTORIA" Self-Filling Fountain Pen. isn't a rare pen at all. It's cheaply made of celluloid, and there are bazillions other identical pens (and some chased) floating around under different brand names. I used to have one branded "Yankee" — I never had a box for that one, but it was imprinted SELF-FILLING FOUNTAIN PEN right on the barrel. My guess is that these things all came from a single factory (probably in a German-speaking country, given the profligate use of capital letters in the instructions).

My big question, though, is, "When were they made"? These things don't have the air of something made and sold in the 1920s; they look like something out of the 19th century, not a '20s design, and by the '20s real fountain pens were widely available and reasonably cheap. (In 1926, Frank Spors was jobbing his glass-nibbed Japanese crescent fillers for 67¢ each, to be sold at retail for $1.25.)

Bottom line: Do you have any information about when these things were made? If you do, please consider sharing what you know.